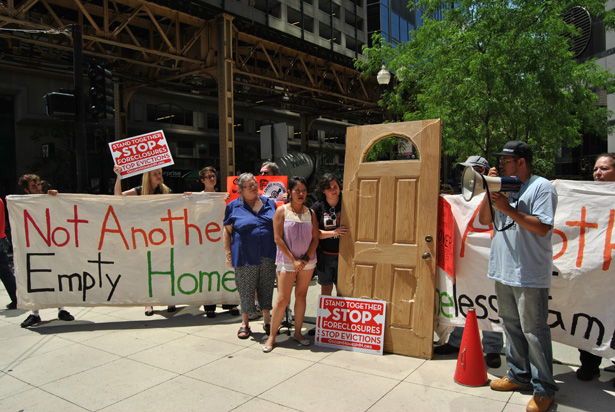 From an article by In These Times:
David Cruz told In These Times that, when his family was unable to afford the two months of payment demanded by the bank after PNC's system failed to process a payment in June 2010, the holder of the mortgage on their Minneapolis home began trying to evict them. "They were expecting that they could just get us to leave," he said of a notice they received in February, which he claims told them they had 48 hours to vacate the property and made no mention of the family's right to contest the foreclosure in court. "We didn't know at first that we could defend our home. But now we do, and we're saying, 'enough is enough.'"
The Cruz family had a very specific request for President Obama: "Stop using taxpayer funds to carry out unjust foreclosures and evictions. Leadership starts at the top", said Alejandra Cruz, "and we need you to do more. You have the power to replace the Director of Freddie Mac. This agency is being used to destroy families and communities and you have the power to change it."
And from a Huffington Post article:
"This is important because there's a foreclosure crisis that has been ongoing across the country for years now, and despite government bailout money to the banks and a lot of legislation, there hasn't been a lot of will from the banks to do something about it, so there are brave families like the Cruz family who are stepping up in order to get their attention and try to save their homes," Stuart Schussler, an organizer with the Albany Park Autonomous Center, told HuffPost Chicago.
Read more from the article about the protest from In These Times and the one from Huffington Post.